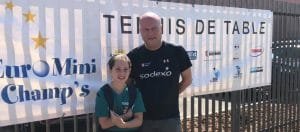 Ken Macleod has 40+ years of coaching experience from International Competition to Primary School Beginners
Ken has also delivered Coach Education for ITTF, Olympic Solidarity Program, English Table Tennis Association and many clubs and schools.
Ken has experience of working with and supporting players to develop and play in international competition. He has delivered coaching in many countries either at training camps or working full time for clubs. He has helped players achieve their goals and these number multiple National Titles and International Selections. Ken holds a BSc Hons. degree in Sport Science (specialising in Table Tennis and Sport Psychology)
Complementing his table tennis experience and knowledge Ken has a strong business background being a Member of the Chartered Management Institute (MCMI) and holds a Masters Degree in Business. His special areas of interest are Strategy and Change Management.